Arteveldehogeschool · International Business Management · Accounting
Here are the best resources to pass Accounting at Arteveldehogeschool. Find Accounting study guides, notes, assignments, and much more. We also have lots of notes, study guides, and study notes available for International Business Management at Arteveldehogeschool.
12 Search Results

4

Filter(s)
Currently, you only view notes uploaded by
Tutors.
To view all notes available on Stuvia, change the filters in the menu.
Best selling this year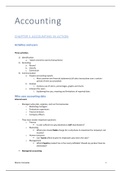 Summary Accounting 2019-2020
Summary of all chapters for the final exam (2020). Slides book 'Accounting Principles' were used.
Summary
• 113 pages •
by
•
uploaded
Summary Accounting 2019-2020
Last document update: ago
Summary of all chapters for the final exam (2020). Slides book 'Accounting Principles' were used.