Cambridge University · Law · Land Law
Here are the best resources to pass Land Law at Cambridge University. Find Land Law study guides, notes, assignments, and much more. We also have lots of notes, study guides, and study notes available for Law at Cambridge University.
13 Search Results

4

Filter(s)
Currently, you only view notes uploaded by
Tutors.
To view all notes available on Stuvia, change the filters in the menu.
Best selling this year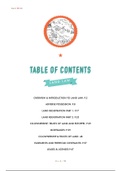 First class Land Law Notes
First class Land Law notes, last updated for Law exams at the University of Cambridge in 2018. 

These notes are concise & colourful. I have distilled the key principles for the main cases to make revision easier, especially for problem questions. 

The notes also cover key academic commentary in each area. The notes cover the following areas: 

1) Overview & introduction to land law
2) Adverse possession
3) Land registration 
4) Land registration
5) Co-ownership, trusts of land and estoppel
6) ...
Study guide
• 73 pages •
by
•
uploaded
First class Land Law Notes
Last document update: ago
First class Land Law notes, last updated for Law exams at the University of Cambridge in 2018. 

These notes are concise & colourful. I have distilled the key principles for the main cases to make revision easier, especially for problem questions. 

The notes also cover key academic commentary in each area. The notes cover the following areas: 

1) Overview & introduction to land law
2) Adverse possession
3) Land registration 
4) Land registration
5) Co-ownership, trusts of land and estoppel
6) ...