Study notes IEB Chemistry at IEB
Here are the best resources to pass IEB Chemistry at IEB. Find IEB Chemistry study guides, notes, assignments, and much more.
8 Search Results

3

Filter(s)
Currently, you only view notes uploaded by
Tutors.
To view all notes available on Stuvia, change the filters in the menu.
Best selling this year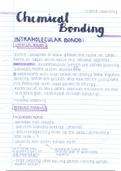 Chemical Bonding
Chemical bonding notes including: intramolecular bonds, covalent bonds, ionic bonds, metallic bonds, electronegativity ,intermolecular bonds, dipole-dipole forces, London forces, Hydrogen bonds, melting and boiling points
Summary
• 6 pages •
by
•
uploaded
Chemical Bonding
Last document update: ago
Chemical bonding notes including: intramolecular bonds, covalent bonds, ionic bonds, metallic bonds, electronegativity ,intermolecular bonds, dipole-dipole forces, London forces, Hydrogen bonds, melting and boiling points