PEARSON · Information Technology 2016 NQF · Unit 4 Programming
Here are the best resources to pass Unit 4 Programming at PEARSON. Find Unit 4 Programming study guides, notes, assignments, and much more. We also have lots of notes, study guides, and study notes available for Information Technology 2016 NQF at PEARSON.
8 Search Results

4

Filter(s)
Currently, you only view notes uploaded by
Tutors.
To view all notes available on Stuvia, change the filters in the menu.
Best selling this year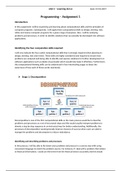 Unit 4 - Programming (ALL THAT IS NEEDED)
This Bundle includes all 2 assignments of Unit 4 - Programming. The essays have the correct content, structure and layout needed to achieve the highest grade possible.

Please follow the content and be double checking carefully as this will allow those to easily achieve distinction grade much quicker than ever.
Bundle
• 2 items •
by
•
uploaded
Unit 4 - Programming (ALL THAT IS NEEDED)
Last document update: ago
This Bundle includes all 2 assignments of Unit 4 - Programming. The essays have the correct content, structure and layout needed to achieve the highest grade possible.

Please follow the content and be double checking carefully as this will allow those to easily achieve distinction grade much quicker than ever.