Universiteit Utrecht · Pedagogische Wetenschappen · Developmental Psychopathology
Here are the best resources to pass Developmental Psychopathology at Universiteit Utrecht. Find Developmental Psychopathology study guides, notes, assignments, and much more. We also have lots of notes, study guides, and study notes available for Pedagogische Wetenschappen at Universiteit Utrecht.
24 Search Results

4

Filter(s)
Currently, you only view notes uploaded by
Tutors.
To view all notes available on Stuvia, change the filters in the menu.
Best selling this year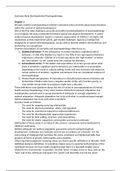 Extensive summary, comprehensive summary book developmental psychopathology UU
Comprehensive summary DP (2020/2021) of the book 'disorders of childhood: development and psychopathology' (Parritz & Troy) AND additional chapter 10 that was emailed later. It is a summary in English, because the exam is also in English. This summary is somewhat longer than others, because in addition to the most important things, the associations are also briefly described. I wanted that so that those who read this have seen it briefly before the exam and have all the information. If you rem...
Summary
• 101 pages •
by
•
uploaded
Extensive summary, comprehensive summary book developmental psychopathology UU
Last document update: ago
Comprehensive summary DP (2020/2021) of the book 'disorders of childhood: development and psychopathology' (Parritz & Troy) AND additional chapter 10 that was emailed later. It is a summary in English, because the exam is also in English. This summary is somewhat longer than others, because in addition to the most important things, the associations are also briefly described. I wanted that so that those who read this have seen it briefly before the exam and have all the information. If you rem...