Tilburg University · Psychologie · Consumer Behavior
Here are the best resources to pass Consumer Behavior at Tilburg University. Find Consumer Behavior study guides, notes, assignments, and much more. We also have lots of notes, study guides, and study notes available for Psychologie at Tilburg University.
16 Search Results

4

Filter(s)
Currently, you only view notes uploaded by
Tutors.
To view all notes available on Stuvia, change the filters in the menu.
Best selling this year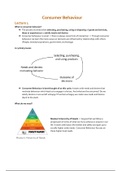 Consumer Behavior: Extensive Lecture Notes
These are comprehensive Consumer Behavior notes that cover the entire lecture classes content as well as additional, elaborate and extremely detailed explanations (could be considered a transcript) provided by the professor which help with the understanding of essential topics discussed throughout the course. The notes are 180 pages long of exam-focused material ensuring that the student only focuses on knowing what is required to do well on the exam. Good luck with the exam, you've got this!!!
Summary
• 180 pages •
by
•
uploaded
Consumer Behavior: Extensive Lecture Notes
Last document update: ago
These are comprehensive Consumer Behavior notes that cover the entire lecture classes content as well as additional, elaborate and extremely detailed explanations (could be considered a transcript) provided by the professor which help with the understanding of essential topics discussed throughout the course. The notes are 180 pages long of exam-focused material ensuring that the student only focuses on knowing what is required to do well on the exam. Good luck with the exam, you've got this!!!