Tilburg University · International Business Administration · Finance 1
Here are the best resources to pass Finance 1 at Tilburg University. Find Finance 1 study guides, notes, assignments, and much more. We also have lots of notes, study guides, and study notes available for International Business Administration at Tilburg University.
15 Search Results

4

Filter(s)
Currently, you only view notes uploaded by
Tutors.
To view all notes available on Stuvia, change the filters in the menu.
Best selling this year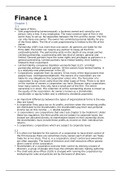 summary finance 1
comprehensive summary of the course finance 1 based on the book Jonathan Berk and Peter DeMarzo, Corporate Finance-Global Edition, Pearson, 3rd Edition. ISBN 978-0-273-79202-4
Summary
• 18 pages •
by
•
uploaded
summary finance 1
Last document update: ago
comprehensive summary of the course finance 1 based on the book Jonathan Berk and Peter DeMarzo, Corporate Finance-Global Edition, Pearson, 3rd Edition. ISBN 978-0-273-79202-4