Liberty University · Business Management · Busi 530
Here are the best resources to pass Busi 530 at Liberty University. Find Busi 530 study guides, notes, assignments, and much more. We also have lots of notes, study guides, and study notes available for Business Management at Liberty University.
7 Search Results

4

Filter(s)
Currently, you only view notes uploaded by
Tutors.
To view all notes available on Stuvia, change the filters in the menu.
Best selling this year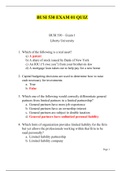 BUSI 530 FINANCE EXAM 01 QUIZ (LATEST) : LIBERTY UNIVERSITY
BUSI 530 FINANCE EXAM 01 QUIZ (LATEST) : LIBERTY UNIVERSITY
BUSI 530 EXAM 01 QUIZ


BUSI 530 – Exam 1
Liberty University

1.	Which of the following is a real asset?
a)	A patent
b)	A share of stock issued by Bank of New York
c)	An IOU ("I owe you") from your brother-in-law
d)	A mortgage loan taken out to help pay for a new home

2.	Capital budgeting decisions are used to determine how to raise cash necessary for investments.
a.	True
b.	False

3.	Which one of the following would correctly di...
Exam
• 8 pages •
by
•
uploaded
Exam
BUSI 530 FINANCE EXAM 01 QUIZ (LATEST) : LIBERTY UNIVERSITY
Last document update: ago
BUSI 530 FINANCE EXAM 01 QUIZ (LATEST) : LIBERTY UNIVERSITY
BUSI 530 EXAM 01 QUIZ


BUSI 530 – Exam 1
Liberty University

1.	Which of the following is a real asset?
a)	A patent
b)	A share of stock issued by Bank of New York
c)	An IOU ("I owe you") from your brother-in-law
d)	A mortgage loan taken out to help pay for a new home

2.	Capital budgeting decisions are used to determine how to raise cash necessary for investments.
a.	True
b.	False

3.	Which one of the following would correctly di...