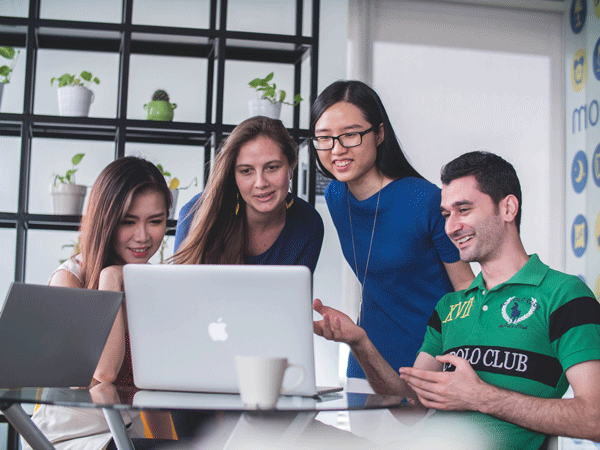 An internship is a temporary position within a company, typically for students or recent graduates. They usually last for 3-6 months and can be either part-time or full-time. Summer internships are usually full-time, while internships during your studies may be part-time to leave room for your course work. So, why would an internship benefit you and your future career? Read more below about several reasons why you should take an internship and explore the benefits of early work experience during your studies.
From knowledge to practical skills
Working at a company is different from taking courses at college and studying for your exams. An internship is an ideal way to use the knowledge acquired during your studies in a practical way. You learn how to turn your knowledge into a skill set and gain hands-on experience in your particular field. For example, during an internship you work with different stakeholders, learn how to meet deadlines and create priorities in your work. Also, feedback is given in a different way: you will not get a grade, but often you get direct feedback on how to improve your skills. An internship is an opportunity to learn work skills you can use to create value and is a great first step towards your desired career.
Exploring opportunities
Since an internship is one of the first steps in your career, it is a good way to explore some working opportunities. You can try out different aspects of working, such as different roles and work environments. You may like your internship, but sometimes, you find that the position or company does not suit you. In that case, it's a good thing that an internship is temporary and afterward you can try out another position or find a job that is more suitable. For example, you may like the role of communications but prefer a smaller company. Or, you like the company, but you are more interested in a job at the sales department than your current internship position. Either way, an internship provides you with a short working experience that enables you to get to know yourself and your preferences. Ultimately, this experience aids in finding that first job.
Guidance of professionals
During your studies, you will mostly be in contact with fellow students and professors. While learning and studying in such an environment is beneficial for your personal and professional development, it is also useful to have other mentors. An internship puts you in a different setting and the guidance of working professionals will help you in several ways. First, your internship mentor will help you to do your tasks well. Second, you can learn from them by watching how they use their professional skills to create value for the company they are working for. Third, they might have some useful insights for you, because they have worked with you. If you ask feedback from time to time from the professionals around you, you are more likely to learn from your mistakes. All in all, learning from professionals by having an open mindset and a willingness to learn as much as possible from them, will later prove worthwhile when searching for that first job.
Learn and develop professional skills
An internship often requires a mix of several skills that are put to use in companies. On the one hand, these might be hard skills. Hard skills are abilities such as analyzing balance sheets, speaking a third language, or have extensive knowledge of programming. These skills are often learned during your studies and can be deepened during your working period. On the other hand, working at a company requires you to have soft skills as well. This means the ability to do great teamwork, collaboration skills, and communication skills in a professional environment, among others. An internship is a great opportunity to develop these skills, which can give you a headstart when starting your first job after graduating.
Networking
An internship can be seen as a step towards that awesome first job. Being involved in a professional environment for a period gives you more than experience. The professionals you are working with will become new connections that may help you find future opportunities, especially if you work hard and provide great results during your internship. Networking can be handy when it comes to finding the first job, for example. You meet people through other people. Furthermore, the professionals at the company may be willing to provide a good reference on platforms such as LinkedIn, which enhances your credibility as a young professional. So, an internship can be a great way to expand your professional network.
Building your CV
An internship can help you to gain relevant experience and improve your chances when applying for a first job as a young professional. These days, extracurricular activities are an important addition to your CV. They are meant to complement your education and show companies your personal skill set. To build up your CV, it is very beneficial if you can add one or two internships. This shows your future employer that you have tried out different positions, thought about your future career and that you have already developed some professional skills. Adding an internship to your CV can greatly improve your chances on the job market.
In summary, based on these reasons on what an internship can do for you as a student or young professional, doing an internship during your studies can help you in your future career. You learn practical working skills and explore some future career opportunities. In addition, you can benefit from the guidance of professionals, create professional skills and build your CV for your first job as a young professional. All the more reasons to go and find that desired internship!