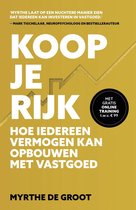 ISBN

Author(s)

Language

Publisher

Edition

Edition
Summaries Koop je Rijk (1st edition)
Myrthe de Groot - ISBN: 9789021579757
ISBN

Author(s)

Language

Publisher

Edition

Edition
View all 0 summaries for Koop je Rijk, written by Myrthe de Groot. The summaries for Koop je Rijk are written by fellow students or tutors, making it easier for you to understand the content of the textbook. By finding the summary that matches your study style perfectly, studying will be a breeze.
Why study with the book summaries on Stuvia?
Relevance, efficiency and convenience. These are important elements when studying or preparing for a course or exam. Studying with the help of book summaries, which are linked to the ISBN number of your (study) book, is more relevant than ever. Your fellow students or tutors are sharing their knowledge to help you prepare for your exams. Find the ISBN number of your book and you'll be sure to buy the right summary. That way you won't be faced with surprises during your exams.
All summaries on Stuvia are written by students who have already taken the exam, lecturers who teach the study material or professional publishers. As a result, you can be confident that you will understand the course material more easily and that the summary contains all elements that are tested in the exam. Find the book you need to study by its ISBN and choose the best textbook summary.